Common Name: Vanderwolf's Pyramid Limber Pine Latin Name: Pinus flexilis 'Vanderwolf's Pyramid' Size: 20 (min) to 25 (max)
Are you looking for this plant?
Let us know
and we'll help you find it!
Are you a retailer who sells this plant? Do you want to list it here? You can enter your inventory directly on PlantPlaces.com, using a web browser or an Android™ device.
Contact Us
to request an account.

A user with PlantPlaces.com Mobile for Android™ has identified this plant for sale at a retailer. You can identify plants for sale, too!
Download PlantPlaces.com Moble here, for free, on the Google Play™ Store!
Or,
read more about it here
| | | | | | |
| --- | --- | --- | --- | --- | --- |
| Quantity | Price | Vendor | Location | Notes | Date Identified |
| 2 | 199.99 | Pipkins Garden Center | 5035 Cooper Road Cincinnati OH 45242 Lat: Long: | | 2016-03-28 |
Hi im looking 4 limber pine , i need 2-6 3-8 5-9 2-11 must be specium plants Thank you
Plant Facts
Do you have this plant?
Would you like to dedicate a plant to someone?

Vanderwolf's Pyramid Limber Pine
Pinus flexilis 'Vanderwolf's Pyramid'
Maximum Height: 25 feet
Contact us
to order an aluminum plant label from PlantPlaces.com!
Category:
EvergreenTree
Family:
Pinaceae
Genus:
Pinus
species:
flexilis
Cultivar:
'Vanderwolf's Pyramid'
Origin:
Size:
20 (min) to 25 (max)
Size Description:
Notes:
Pyramidal habit with blue-green needles
Characteristics:

Recommended

Rain Garden
Do you like this plant?

This plant is on the recommended list of:
Scott Beuerline
Would you like your own recommender list? Simply
Contact Us
or use the form at the bottom of this page.
Plant Images and Specimens
Location: Spring Grove Cemetery 4521 Spring Grove Ave Cincinnati OH 45232
Specimen: 596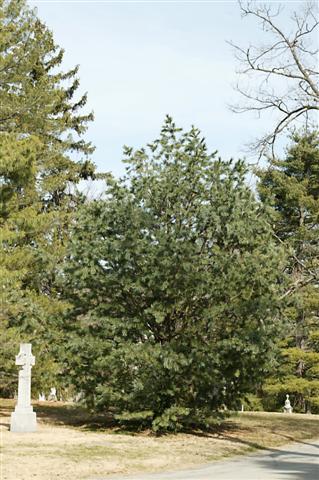 Location: Spring Grove Cemetery
Photo Credit: R. Scott Beuerline
Season: Mar 22