Common Name: Emerald Gaiety Wintercreeper Latin Name: Euonymus fortunei 'Emerald Gaiety' Size: 2 (min) to 3 (max)
Are you looking for this plant?
Let us know
and we'll help you find it!
Are you a retailer who sells this plant? Do you want to list it here? You can enter your inventory directly on PlantPlaces.com, using a web browser or an Android™ device.
Contact Us
to request an account.
Will this shrub still grow OK in full shade
This plant grows fine in part shade and sun but full shade it tends to thin out. It is a tough plant but too much shade may do it in. Plants like Hellebore, Rohdea, and epimedium would do well. Variegated solomons seal is another good oneSteve
Plant Facts
Do you have this plant?
Would you like to dedicate a plant to someone?

Emerald Gaiety Wintercreeper
Euonymus fortunei 'Emerald Gaiety'
Maximum Height: 3 feet
Contact us
to order an aluminum plant label from PlantPlaces.com!
Category:
Shrub
Family:
Celastraceae
Genus:
Euonymus
species:
fortunei
Cultivar:
'Emerald Gaiety'
Origin:
Size:
2 (min) to 3 (max)
Size Description:
Notes:
Leaves have white margins that turn pink in winter. Will climb if planted near a structure.
Characteristics:

Winter Interest

Dry Soil Tolerant
| | | | |
| --- | --- | --- | --- |
| Availability: | | Good Availabilty | |
| Full Sun Tolerance: | | Good Performance | See other plants that like full sun. |
| Part Shade Tolerance: | | Average Performance | |
| Deep Shade Tolerance: | | Lower Than Average Performance | |
Do you like this plant?

Plant Images and Specimens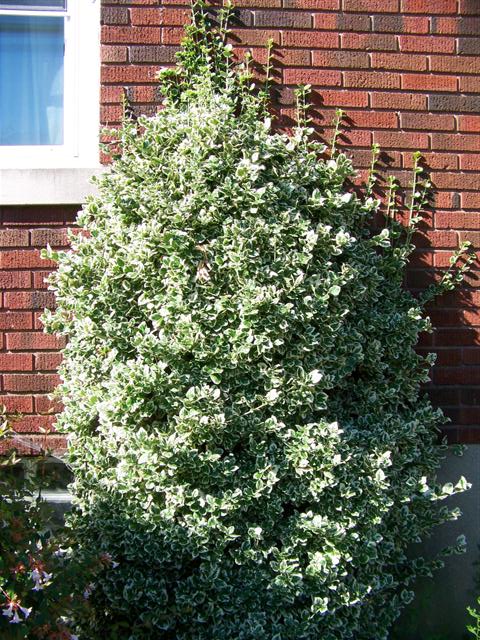 Emerald Gaiety trained up wall
Location: 17 Greenbriar, Ft. Mitchell
Photo Credit: Steve Foltz
Emerald Gaiety trained up wall
Location: 17 Greenbriar, Ft. Mitchell
Photo Credit: Steve Foltz